Jerry 'River' Kaster, Ph.D.

It is a miracle that curiosity survives formal education.









Albert Einstein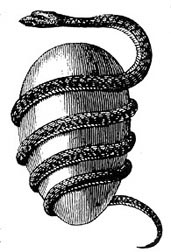 Orphic Egg, Bryant 1775

The egg represents the cosmos; The snake the innate human curiosity and quest to understand.






Function and adaptation of the marine and freshwater invertebrate groups emphasizing the evolutionary linkage between
taxa.


Science and business are arguably the most influential endeavors on human culture and society. This course will look for linkages between the two fields. U/G

Substrate-water interface ecology with accent on marine and freshwater invertebrates. Both lotic and lentic ecosystems are studied with a field oriented hands-on approach.

This course teaches students concepts of sustainability as they relate to industrial management, operations, and technologies. The subject is integrated over several areas of industrial engineering, industrial ecology, physics, biology, business and economics, and social science into a comprehensive body of knowledge that students will be able to draw from during their careers.
Link for applying to the program:


Along with Val Klump we venture to Mexico's world class lake, Laguna Bacalar in the southern Yucatan Peninsula.
Winterim, January 9-18, 2012. U/G

See www.LagunaBacalarInstitute.com to learn about the Laguna

Contact: Jerry Kaster at jlk@uwm.edu for details.